Demo Compo machine specs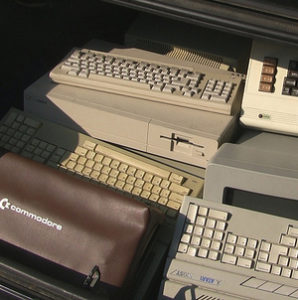 CPU:
Intel Core i7-3770K
RAM:
20GB
GPU:
AMD Radeon R9 Fury (Factory O.C. to Fury X clock rate)
OS:
Dual boot: do not assume any software outside of the base installation and updates have been installed unless noted otherwise.

Windows 10 64-bit with current OpenGL, DirectX, and Vulcan drivers / runtimes.

Ubuntu Studio 20.04 64-bit.
Stream Resolution
1920 x 1080p – please use this resolution for your production if possible.
Available Hardware
In general, we want you to bring your own computers or run your entries on the compo machine. We have a variety of machines available for compo use upon prior request via email, ideally by Friday June 5, 2020. We will do our best to get these machines online during the party as well, but it would be helpful if you could let us know ahead of time so we can get everything set up and plugged into the stream. All are NTSC as applicable; if needed we can use an emulator for PAL format (if enough advance notice is given we may be able to borrow PAL hardware):
HTC Vive
VIC-20
C=16
C=64
Amiga 1000
Amiga 1200
Atari 520 ST
Atari 1040 ST
ZX-81
HP48G Calculator
Gameboy
Gameboy Advance
Nintendo DS lite
Gameboy/GBA/NDS cart writers
NES
SNES
N64
Sega Dreamcast
Playstation
Playstation 2
486 dx2/66 w/ Gravis Ultrasound (classic), Soundblaster 16, and ET4000
Many other 8088s, 8086s, 386s, 486s, and Pentiums
Raspberry Pi 3
Apple IIGS
Mac SE
6500 PowerMac
Several old VTs (mostly VT220s)
An X-Terminal
3M 9800 Overhead Projector